SIMPLE ICED BISCUITS
INTRODUCTION
Baking is an extremely fun activity to do with children. Right from mixing all ingredients to make the dough to icing different types of cakes, cookies, and biscuits- you can get so creative, and kids love the thrill of it all. At #seasonsville, we combine crafts and baking in the best possible way. Indulge your children in an interactive cooking session for this Sunday's brunch or next bake sale, and show up with the most amazing iced biscuits around. Read on to know everything you need for baking simple iced biscuits which are mom-approved and exceptionally tasty.
INGREDIENTS:
All ingredients needed to make this yummy recipe of ice cookies are available at seasonsville.com at an attractive subscription. You will also be able to easily find them at your nearest grocer. Here's what you need: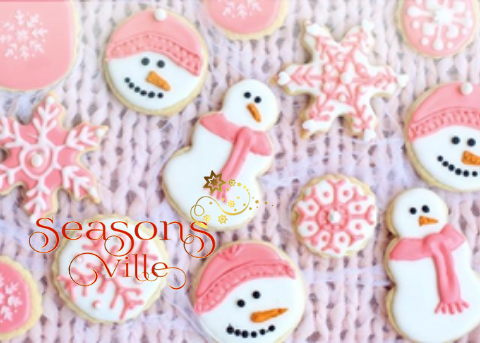 For the dough–
200g softened unsalted butter
200g sugar
1 large egg
½ teaspoon vanilla extract
1 lemon, zested
400g plain flour
For the icing-
Food coloring
Fondant icing sugar
Tools-
Electric whisk
Dough cutters
Biscuit cutter in preferred shapes and sizes
Baking mat
Baking sheet/parchment paper
TOTAL TIME: 50 minutes (30 minutes to prepare, 20 minutes to bake)
SERVINGS: 40 to 45 biscuits
NUTRITIONAL INFORMATION
Approx. Nutrients per Biscuit
Kcal
80
Protein
1.3g
Salt
0.3g
Saturates
2g
Carbohydrates
13g
Fiber
0g
Fat
4g
Sugar
5g
OTHER DETAILS:
This recipe:
Is 100% vegetarian.
Is easy to make
Can be refrigerated
Can be kept in an airtight container for one week
PROCEDURE:
Follow these easy steps to bake the most magical:
Preheat the oven to a 200C fan.
In a large bowl, whisk the butter until it is smooth and frothy.
When the butter is visibly creamy, add one large egg and the vanilla essence/lemon zest. Finally, add the flour to make a dough. You may use some extra dough if the mixture is sticky.
Cut the dough using a dough cutter into 6 pieces and roll them onto a flat surface, preferably a baking mat.
Use your preferred biscuit cutter to give the biscuit an interesting shape.
Transfer the biscuits on a parchment paper/baking sheet and bake for 7-10 minutes or until the edges start to brown. Leave it to cool before removing it from the oven.
For the icing, mix the icing sugar with some water and food color of choice. Encourage the kids to make creative designs on top of the biscuits. You can also use icing pens for this step.
Voila! Your iced biscuits are all set to be devoured!
NOTES:
Safety first, always!
Always wear appropriate clothing (like mittens, aprons, non-synthetic clothes) in the kitchen, more so when working with children to avoid mishaps and burns of any degree. To ensure children's safety, Season Ville offers beautiful aprons for kids. Visit https://seasonsville.com/all-products/page/3/ to know more.
Always ensure adult supervision when working with sharp objects like the cutter and while working on the gas/oven.
CONCLUSION
Iced biscuits are a delicacy loved by all age categories. When made by children, they're bound to taste even better. This recipe will go down as the foolproof go-to biscuits to make in your family because it is so quick, beautiful, and interesting to bake. Be it Christmas eve or a birthday party; you can ice these yum treats for all occasions. What's more, Seasonsville.com has your back for everything crafty!